Organelles Without Borders: How Liquid Droplets Organize the Cell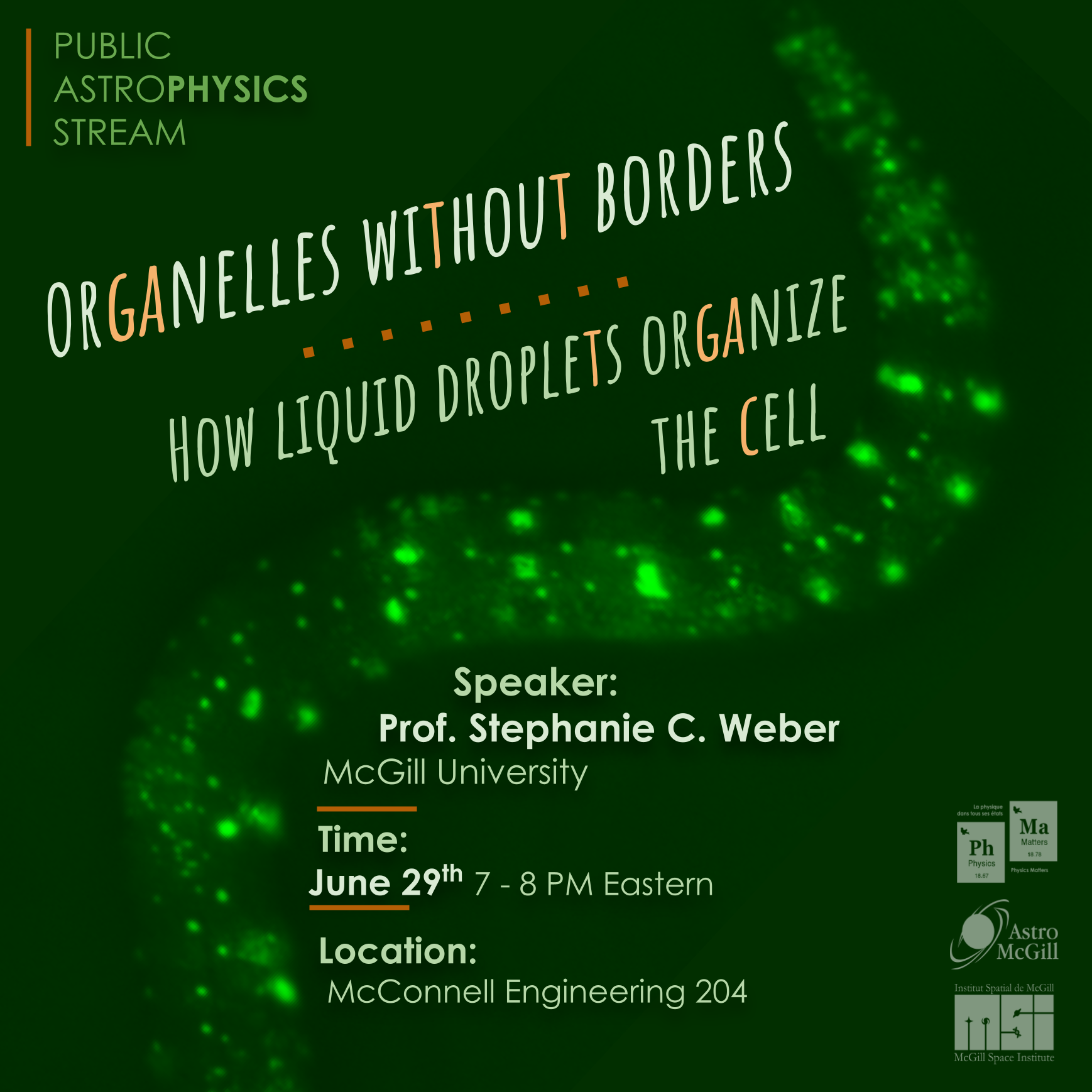 Stephanie Weber (McGill University, Department of Biology)
Jun 29, 2022 7:00 PM to 8:00 PM
Location: McGill Downtown Campus McConnell Engineering Building (3480 University St) Room 204
Hybrid in-person/livestream
We welcome you to another IN-PERSON and online public lecture! This time we hear from Department of Biology Prof. Stephanie Weber as she tells us about the new developments in the field of intracellular phase separation, a phenomenon important for biological processes from neurotransmission to gene expression! It also has been implicated in a variety of human diseases, including cancer, neurodegenerative disorders, and viral infection. Join us to hear about this fascinating and important research!
This event will be hybrid in-person and streamed online. If you would like to attend in person, we ask that you register in advance (in-person attendance limit ~60 people). Please feel free to submit questions for the speaker when you register! Anyone attending virtually may submit questions anytime during the event.
This event is free and open to the public. We hope to see you there!
**We strongly encourage wearing a mask if attending this event in-person**
Registration link: https://forms.gle/4ZKdGZFHhpJzC1Fg7
YouTube link: https://youtu.be/wiMgHY9cymk
P.S. Read more about intracellular phase separation in the links below!
https://knowablemagazine.org/.../what-is-liquid-liquid...
https://www.quantamagazine.org/molecular-condensates-in.../
More about the event ⇒