Special MSI Public Talk - New Horizons: The Exploration of the Pluto System and Beyond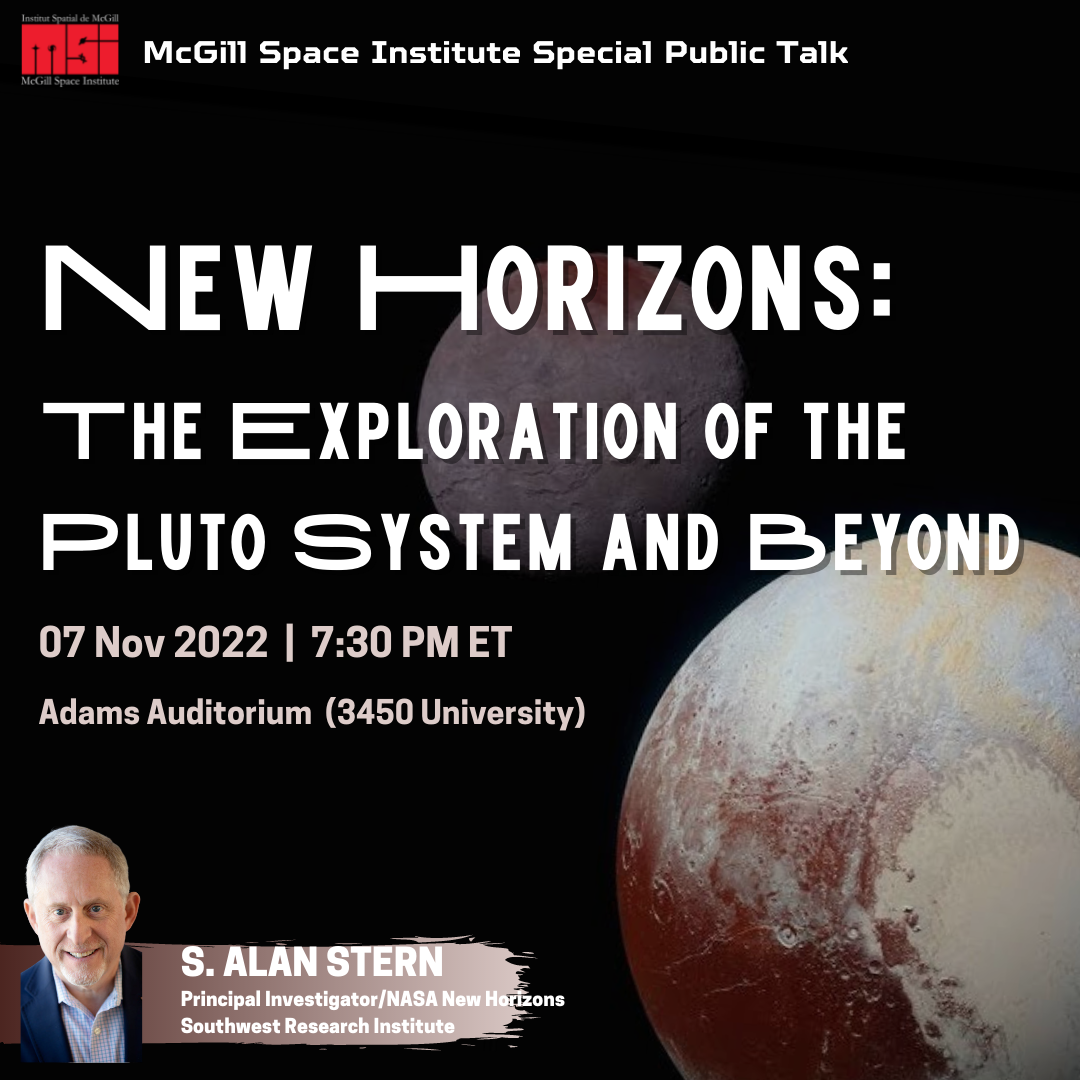 S. Alan Stern (Southwest Research Institute)
Nov 7, 2022 7:30 PM
Location: Adams Auditorium
Special MSI Public Talk
Join us on Nov. 7, at 7:30 pm for a Special MSI Public Talk featuring S. Alan Stern, the director of Nasa's New Horizons mission to Pluto!
The talk will take place in the Adams Auditorium (3450 Rue University). The talk will be followed by a Q&A with Dr. Stern. This is a free event, open to everyone! Can't join in person? Watch the livestream: https://youtu.be/UZ5moWf-l7s
New Horizons is NASA's mission to explore the Pluto system and the Kuiper Belt (KB). New Horizons launched in 2006 and made the first explorations of the Pluto system in July 2015 and the first exploration of any Kuiper Belt Object (KBO), a body named Arrokoth, in January 2019. It is now on an extended mission to explore the Kuiper Belt and conduct other scientific investigations only feasible from its position 54 AU from the Sun, or farther. The spacecraft carries a sophisticated payload of imagers, spectrometers, and other scientific instruments. The flyby of the Pluto system by New Horizons revealed a complex planet and satellite system. Beyond providing rich geological, compositional, and atmospheric datasets, New Horizons also demonstrated that Pluto has been surprisingly geologically and climatologically active throughout 4+ Gyr, and that it exhibits a surprisingly complex range of phenomenology and geologic expression that rivals Mars in its richness. I will describe the mission's objectives, the capabilities of the payload, the flybys of Pluto and KBO Arrokoth, and some of the major scientific discoveries made about in these flybys. I will close by also outlining the future extended mission of New Horizons.
More about the event ⇒